"THE LIST OF MY DESIRES"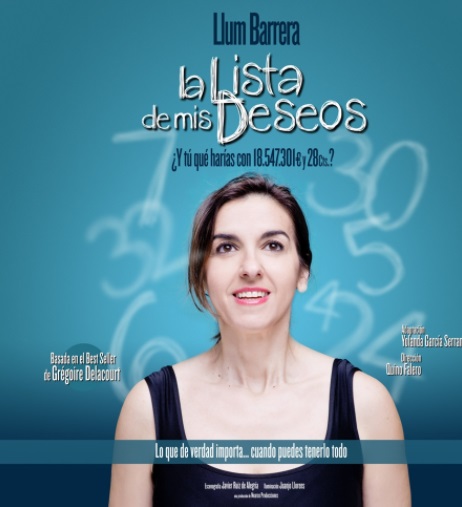 Plays
With Light Barrier
Function: 20: 30 hrs.
Spectator's function
Price: 18, 16 and 14 €
Youth Price (age up to 30 years): 12 € (only)
Duration: 1 hour 20 minutes
Having Llum Barrera on the stage of the Juan Bravo Theater is a wish that many of the Segovian spectators would include in a list if we chose them. She has already shown it on our tables: She is nice, funny, she transmits with a special shine in her eyes every role she assumes and she manages to make it easy to empathize with her interpreter to whom she interprets.
Well, I wish granted. The Catalan actress will return to our stage, just over two years after Family Size, with a work that, now that the "if I get the lottery, I think ..." era, will make the numbers really choose the public winners of life.
Martina, winner of 18.547.301 euros and 28 cents in the Euromillion, will not know what to do with them after having wanted them so much, cent by cent. And it is not that he does not know well in what he would invest them, but he does not know whether to invest them in everything he has always wanted, he will invest too much everything that he has always had; The fact is that the lottery can also become a lottery. «I had been waiting for some time, wishing for a good text, a good character, a new challenge. It was the first on my list, "says Llum Barrera, who is directed in this work by Quino Falero with a text by writer Grégoire Delacourt, adapted by Yolanda García Serrano. The list of my wishes has been summed up by the French author himself on occasion as a story "that reminds us that sometimes we have everything, when we believe we have nothing" and that "beauty, charm, sense of humor , intelligence ... they do not depend on money, but on the desire ".
But that's what Delacourt thinks ... What would you do if you were more than 18 million euros?