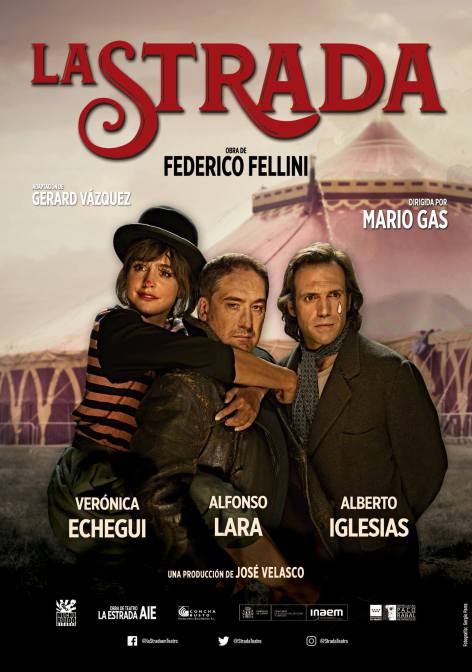 COMPANY: Bust Shell
ADDRESS: Mario Gas
INTERPRETERS: Verónica Echegui, Alfonso Lara and Alberto Iglesias
DRAMATURGY: Gerard Vázquez (adaptation of Federico Fellini)
FUNCTION: 20: 30 h
DURATION: 1 35 h min
PRICE: 20 €, 18 € and 16 €
PRICE FRIENDS OF JUAN BRAVO: 18 €, 16 € and 14 €
YOUNG PRICE: 10 €, 9 € and 8 €
To speak of Federico Fellini is to make it one of the proper names of Italian and European cinema. Suya is the story of La Strada that has adapted to the Gerard Vázquez theater and that has allowed Mario Gas, the director of this play, to find in Verónica Echegui, Alfonso Lara and Alberto Iglesias everything he needs to bring the protagonists to life. Fellini created with the intention of inventing a story in which two people would go together towards a fatal outcome.
Those two people are Zampanò and Gelsomina, a traveling artist and a young woman sold by her own mother to the artist to work for him. Both are silently attracted to each other; and everything, in spite of the difficult and violent character of Zampanò, who does not seem to appreciate the talent of Gelsomina to be an artist. However, jealousy appears in time to make history a real drama, thanks to the entry on stage of the character of El Loco, another circus artist.
Wrapped in a postwar environment, the three protagonists transport the viewer through a journey of neorealism, tenderness and tragedy; a journey in which loneliness and sadness are machinists without a definite direction, in search of a horizon in the form of a smile.
La Strada talks about the chains in forms of values ​​and beliefs that often tie the human being to a destiny that he would not have chosen if he had had the real option of choosing it; of how those ideals are only shadows of a cavern behind which there is a wider, richer world. An unknown world and, therefore, also ignored.