Programming of 4 al 8 October 2019:
THE LAUNDROMAT: DIRTY MONEY
Not recommended for children under 12 years
Duration: 90 min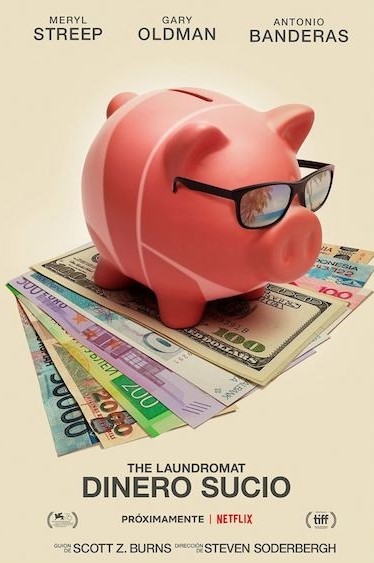 Schedule
Friday 17: 30 (VOSE)
Saturday 17: 30 (VOSE)
Sunday 17: 30 (VOSE)
Monday 17: 30 (VOSE)
Tuesday 17: 30 (VOSE)
Synopsis
A widow (Meryl Streep) investigates insurance fraud. All the clues lead to two lawyers from Panama City (Gary Oldman and Antonio Banderas) who benefit from the gaps in the global financial system .... Movie about the so-called Panama Papers, one of the biggest money laundering scandals of history Documents that linked politicians and other personalities from finance, sports and art to systematic money laundering and tax evasion through tax havens. A group of journalists participates in the discovery of 11,5 millions of these files, all of them linked to the world's most powerful political figures with secret bank accounts to avoid taxes.
THE ORCHESTRA DIRECTOR
From 4 to 8 in October
Duration: 140 min
On Monday, October 7, the pass will be in VOSE (Original version subtitled in Spanish).
LANGUAGE: Dutch
Schedule
Friday 20: 15
Saturday 20: 15
Sunday 20: 15
Monday 20: 15 (VOSE)
Tuesday 20: 15
Synopsis
United States, 1926: When she was just a child, Antonia Brico (Christanne de Bruijn) and her parents emigrated to the United States. Now, with 24 years, her dream is to become a great conductor, but nobody takes her seriously for being a woman. Therefore, Antonia decides to face the world on her own and take an entrance exam at the Berlin Philharmonic Orchestra.
However, when the love of her life appears, the young woman will have to choose between paying attention to her heart or continuing to fight for her dreams.
Directed by María Peters and based on the true story about how Antonia Brico became the first woman in the world to successfully conduct the Berlin Philharmonic Orchestra.
Phard:
Friday, Saturday, Sunday, Monday and holidays: 5 €
Tuesday, day of the spectator, except holidays: 4 €
Projections place:

Caja Segovia Foundation Room

(C. Carmen, 2 - Segovia)

Ticket purchase:

Cinema Room Caja Segovia Foundation

(half an hour before each session)