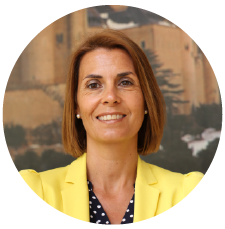 Ms. Magdalena Rodríguez Gómez
Deputy Delegate of PRODESTUR Segovia
Welcome to the web portal of PRODESTUR SEGOVIA!
Prodestur is an Autonomous Organization of the Diputación de Segovia whose aims are the promotion, the tourist development and the contribution to the local development of the different municipalities of the province of Segovia, through the activities that are detailed in article 7 of the Statutes.
Its axes of action are:
The tourism
Promotion of effective, sustainable and quality water management in the province
Laboratory
In this portal you can find information about the two areas that comprise it:
Agro-environmental section. Provincial Laboratory
Tourism
In the page of the Agro-environmental Section you will be able to inform you of the different types of physical-chemical and microbiological analyzes that we carry out in the Laboratory.
In the Tourism page you will find all the information of the tourist offer of the province of Segovia, its towns, its establishments, routes and endless experiences that we have for all tastes.
If you need any other information that you do not find of these topics do not hesitate to contact us.
We hope to see you soon among us, let us surprise you!
Magdalena Rodríguez