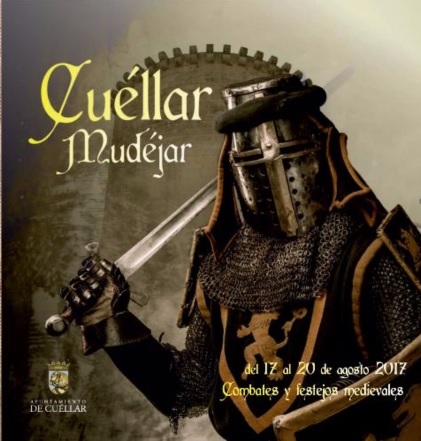 Cuéllar Mudéjar 2017
The Cuéllar Department of Industry, Commerce and Tourism organizes the XXII Medieval Mudéjar Fair in commemoration of the Mudéjar from the XNUMXth to the XNUMXth centuries.
It will be held on August 18, 19 and 20, 2017 in the Parque de la Huerta del Duque, a garden that served as a forest and hunting ground for the Dukes of Albuquerque, lords and marquises of Cuéllar, but these days is the enclave of medieval life and customs. The surroundings of the Park have a forest area of ​​eight hectares, located in, located at the foot of the castle of Beltrán de la Cueva, surrounded by a wall that connects with the oldest windmill found in Castilla y León. This is a botanical garden that includes different plant species, ponds, fountains and sandy paths that make the event more realistic; so the Garden becomes a small medieval village where you can see the customs of the past with minstrels, dances, jousts and tournaments, as well as a handicraft section where you can buy artisan products and of the time.
Cuéllar intends to transfer the visitor to another past time in which the town was one of the centers of residence of the three different cultures: Muslim, Christian and Jewish, hence the name "Cuéllar Mudéjar" takes.
The program begins with guided visits to the Castle of Cuéllar followed by cultural activities for all ages and throughout Thursday 17.
For Friday, Cuéllar Mudéjar has prepared different exhibitions such as Falconry, fire and dance shows or the Conjuring of the Queimada.
On the 19th, we must highlight the competitions for children, one in the labyrinth and the other, a tournament for the little ones.
To finish, on Sunday the 20th, the traditional music will continue, with the art of falconry, dances, matasanos ... everything that could be seen in the Middle Ages, with the main course of the melee!