This weekend the official tourist guides accompanied the thirty-one participants of the program organized by the Provincial Council 'Viajero, I will teach you Segovia' to get to know the rich mountain architecture of Riaza and the historic medieval town of Ayllón. Mariano Vela was in charge of counting the main attractions and curiosities of the historical heritage of both municipalities.
The route began in the Plaza Mayor de Riaza, where its characteristic arcades and bullring stand out. Visitors discovered the typical mountain architecture while strolling along Calle Cervantes and then visited the parish church of Nuestra Señora del Manto, an impressive Renaissance complex dating from the late XNUMXth to the mid-XNUMXth century and located behind the town hall building. The group was able to appreciate some of the characteristics of the temple, such as the rectangular Latin cross plan, the apse, two chapels, the bell tower, the sacristy and the baptistery.
The itinerary continued in Ayllón, where the group traveled to feel the medieval atmosphere that the town houses. The visit began in the arch that presides over the town next to the Romanesque bridge, on the shore of the Aguisejo river. Later, the expedition entered the old town, with its unique emblazoned houses, such as Los Contreras or the Palacio del Obispo Vellosillo, a building with a Renaissance façade that houses the Ayllón Library and Museum of Contemporary Art.
Next, the participants arrived at the Plaza Mayor, where they visited one of the town's main temples since the XNUMXth century, the church of San Miguel. They could also see the neoclassical church of Santa María la Mayor, dated between the XNUMXth and XNUMXth centuries, which has a majestic forty-meter high bell tower topped with a belfry.
This appointment culminated with a stop at the leather workshop 'El Hada Leanan', where the entourage was able to learn first-hand what the process of treating and working with hides is.
The next visit of the campaign is scheduled for next Saturday, August 7 and will take participants to explore the enclaves of medieval origin, nature and the attractive landscape offered by the municipalities of Languilla and Madaruelo.
Reservations can be made on the website of the autonomous body of Tourism of the Provincial Council, www.segoviaturismo.es, until 6:XNUMX p.m. on Friday, July XNUMX and with a maximum number of four people per reservation. The registration fee is three euros per person.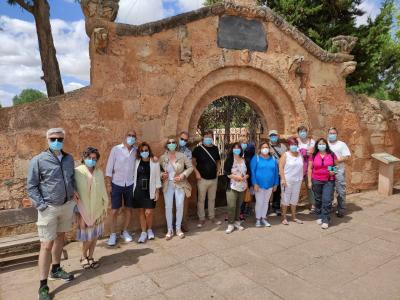 Source: Diputación de Segovia